AC Drives / VFd / Fan / Pump Drive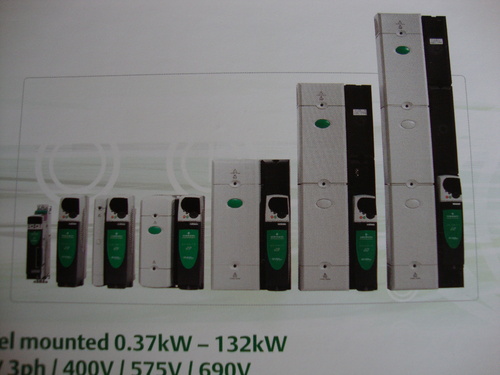 1.UNIDRIVE SP :- 0.25 TO 1500KW UNIVERSAL AC DRIVE. FIVE OPERATING MODES - OPEN LOOP V/F, OPEN LOOP VECTOR, CLOSE LOOP VECTOR, SERVO OR REGENERATION, SELECTED THROUGH PARAMETERIZATION, SMART CARD- FOR PARAMETER AND APPLICATION PROGRAM BACKUP AND CLONING TO IDENTICAL DRIVES.ON BOARD SELECTABLE FLEXIBLE ENCODER INTERFACE- 14 ENCODER TYPES.
2. COMMANDER SK AC DRIVES:- 0.25 TO 132KW SIMPLE TO USE, COMPACT TO FIT, POWER TO PERFORM. OPEN LOOP VECTOR CONTROL. FULL TORQUE DOWN TO 1 HZ. SPEED OR TORQUE CONTROL.
3. PV/EV SERIES DRIVE:- ENERGY SAVING DRIVE RATING 5.5 TO 280KW . FAN AND PUMP AC Application. COST EFFECTIVE. ON BOARD PI CONTROLLER, SIMPLE TO COMMISSION THE DRIVE.